Book review: Cutting Edge PAF - A sketch set to dazzle
March 27, 2010
by Afrah Jamal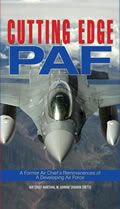 Cutting Edge PAF: A Former Air Chief's Reminiscences of a Developing Air Force
By Air Chief Marshal (retired) M Anwar Shamim Vanguard Books; Pp 345
Of late, there have been numerous occasions to visit the hallways of Pakistan Air Force (PAF) history. Pioneers adorn the walls while historians glower from a corner, trying to reconstruct these men's stories. Men who went up in a blaze of glory, men who left a trail of controversy, and men who went on to lead quiet lives in the suburbs, they are all in there somewhere. Missteps aside, each of them contributed towards making the air force what it is today.
Written under duress, the air chief marshal buckled under his daughter's pressure and broke his silence about life in the PAF. The title suggests that his autobiography focuses more on the professional achievements of the service than the controversial aspects of his tenure. However, the slew of allegations and 'bizarre rumours' about him and his wife have been duly addressed at the end.
The tone is circumspect; the prose is simple; and the story follows the evolutionary path of a PAF initially composed of 222 officers and 2,342 airmen moulded into a cutting edge force that became the pride of the nation and the talk of the town. He commanded 33 Fighter Wing during the 1965 War, served as air adviser to His Majesty King Hussein Bin Talal, planning and developing a modern Jordanian Air Force, and rose to become the second longest-serving PAF chief in 1978.
Cutting Edge PAF is divided into pre-war reminiscences and post-war contributions of the man who helped shape a modern air force. It is also about the vicissitudes of life experienced as a young air force officer and the boy who was first to go solo from No 2 University Air Squadron, the graduate from Royal Australian Air Force College, Point Cook, raving about the Aussie way — their honesty, cleanliness and habit of giving host teams a thundering good time one day before a match — and the pilot who ferried a fleet of F-86s from Paris to Karachi only to make a harrowing discovery near Rome that the air traffic controller's knowledge extended to just two words, 'Continue approach'!
An analysis of both wars is embedded within to complete the look of a period piece. Mostly, it serves as a platform to restore his image as a forward-thinking leader with the foresight to choose F-16s for Kahuta — indefensible and eight minutes away from the PAF, but only three minutes ride from the Indian Air Force. A man credited with three Tactical Commands, thus decentralising tactical operations, one 'Institute of Air Safety' that trained Air Safety Specialists, seven 'Jet Stream' exercises in seven years designed to test preparedness, which also laid the seed of inter-services cooperation and a nine hole golf course in every base, leading the PAF to become inter-services champs in 1980. Sound investments — all of them, yes, even the golf courses.
This impressive list of achievements can only be rivalled by an equally formidable string of allegations that plagued his career. Stigmas are easily attached and impossible to remove. The writer tries nevertheless. His book reproaches Defence Journal for pitting a group captain against his air chief by allowing Cecil Chaudhry's views to be aired without investigation and wonders at the PAF for letting them go unchallenged. He attaches an excerpt from Profiles of Intelligence by Brigadier Syed Ali Tirmizi (1995), which gives a new twist to the story, bringing up Cecil Chaudhry's links with the Soviets. He cites the 'Legion of Merit' given by the US government as proof against drug conspiracy charges and describes the foolproof process of Foreign Military Sales (FMS) to counter the kickback story where he saved, not cost, his country millions.
He also goes to great lengths to clear his wife's name. Ms Tahira Shamim is said to have revamped the entire Pakistan Air Force Women's Association (PAFWA) on modern managerial lines and started the Mujahida Academy, now affiliated with the Air University. He attributes suggestions of impropriety to natural prejudice against women taking initiatives at a time when it was not fashionable. A neat explanation — a little too neat some might say.
This carefully drawn sketch is set to dazzle. And in this group portrait, incidents have been arranged to showcase not just the expanding firepower and might of the service but also the initiative and ability of its officers — one in particular — Anwar Shamim, who as the air chief took on the challenge of absorbing F-16s in one year when the usual timeframe was three; who claims his testimony as a witness during the PAF witch-hunts got several innocents off the hook; and whose stories of command decisions range from improving the morale of his men where needed to fixing the discipline within ranks when required — like the uppity airman on probation who started walking when ordered to double march and took to running when told to halt.
Past familiar landmarks of history, through corridors of power lies the room where policies are made, decisions are taken and fates are sealed. Cutting Edge PAF provides an engrossing look at the duties of the air board, functions of the AHQ, etc., during the transformative phase of a service striving hard to achieve a higher state of operational readiness. The book shines a blinding light on the good, hoping to banish the bad and the ugly. And it works. For a while. Cutting Edge PAF is due out by April 2010.
Afrah Jamal is a freelance journalist. She can be reached at afrahjh@hotmail.com